Bicester 'eco-town' construction date announced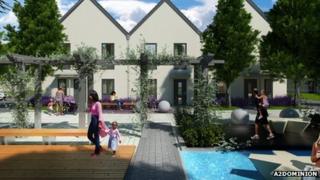 Construction of the first phase of a new "eco-town" in Oxfordshire will start by the end of March.
Land to the north west of Bicester has been earmarked for an initial 393 homes by 2017.
The complete development, set to be built over the next 20 years, will eventually include 5,000 homes.
Cherwell District Council confirmed developers A2 Dominion will start work on new access roads before housing construction begins in August.
The "eco-town" concept to build energy efficient homes and communities was first announced in 2009.
North West Bicester is one of four sites in England identified for such a development.
Planning permission for the first phase, which also includes a new community centre and primary school, was granted in July 2012.
Councillor Michael Gibbard, Cherwell District Council's lead member for planning, said: "There's been substantial work already to prepare the site in terms of supplying utilities, but people will start to see things happening above ground from March."
A2 Dominion hope the first residents will move in from spring 2015.
Energy will be supplied to the "eco-town" by a gas-powered CHP (combined heat and power) energy centre.
Hot water will be piped into homes while simultaneously generating electricity for the National Grid.
Steve Hornblow from the developers said: "The first 400 homes will actually generate enough electricity to power 550 homes, making the development a net provider of electricity back into the grid."