St Katherine's House in Wantage gets warning about care failings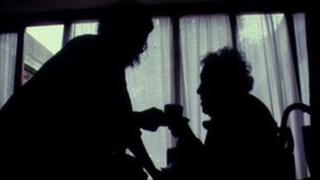 A home for the elderly in Oxfordshire has received a formal warning over failings in the standard of its care.
Care Quality Commission inspectors saw failings at St Katherine's House in Wantage including the needs of patients at risk of choking and malnourishment.
Oxfordshire County Council said it would not place people at the home, which can house up to 76 patients, until required improvements were made.
Gold Care Homes, which runs the home, said it did not want to comment.
'Agency carers'
In total, the home failed to meet five out of eight care and quality standards and can potentially lose its licence if required improvements are not made.
The independent health regulator inspectors observed failings in care during unannounced visits to the home in Ormond Road in November and December.
Inspectors observed one patient at risk of choking was drinking water from a straw, even though their care plan stated they should only drink thick fluids by sipping from an open cup.
They also noted that the home's reviews system did not flag up people who were at risk of malnourishment and dehydration.
Their report recorded: ''Some residents complained that they received poor quality care" because of "a high number of agency carers coming into our home."
If St Katherine's House fails to make the required changes, the home could be fined, have a restriction imposed on its licence or, as a last resort, have its licence to operate revoked.