Oxfordshire schoolchildren trapped on flood-hit bus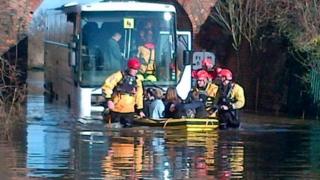 Schoolchildren have been rescued from a bus trapped in flood waters in Oxfordshire.
They were en route to King Alfred Academy, Wantage, when the bus got stuck between Baulking and Kingstone Lisle near Faringdon on Friday morning.
Oxfordshire Fire and Rescue Service used a rescue sled to retrieve 37 children aged 11 to 18.
One parent, who did not wish to be named, told the BBC his two children were trapped for three hours.
The Uffington resident, who travelled to the scene, said: "The headmaster arrived and went in [the water], in what looked like an expensive suit, to be with the children."
The children were then transferred to another bus so they could be taken to school, and were given hot drinks, food, and towels.
Elsewhere, more than 20 properties in Oxfordshire have been flooded following heavy rain in the county.
Homes in Chalgrove, Grove, and Thames are amongst those affected.
Oxfordshire County Council has issued about 1,000 sandbags and has warned of a number of road closures, whilst the Environment Agency has several flood warnings in force.
Chalgrove resident Matthew Hornsby said he was "very concerned" at the "serious" flooding in the village.
He added: "There are people that are worse off than us.
"There are older people that are flooded further up the road that are refusing to leave the house which is really sad."
Peter Clarey, area manager of the fire service, said crews were freeing other vehicles stranded in flood waters.
He asked residents in low lying areas to be "vigilant".