UK floods: Major Oxford route shut for second time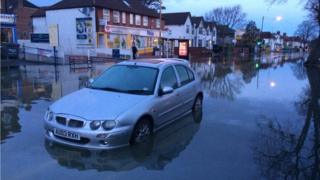 One of Oxford's main routes remains closed because of flooding for the second time in a month.
Abingdon Road runs through the city centre and will be shut between Thames Street to Redbridge Park & Ride until Friday, the county council estimates.
It is one of about 40 roads across Oxfordshire which are closed because of River Thames flooding.
CrossCountry train services are not running between Oxford and Didcot Parkway due to flooding on the line.
'Very big wellies'
Many flood alerts remain in place in the county, with most of the severe warnings in the south of England relating to a stretch of the Thames through Oxfordshire and Surrey.
Temporary flood defences and sandbag dams are in place in west Oxford, with water pumping being carried out.
Oxford City Council installed temporary toilets in Fox Crescent and Canning Crescent, off Abingdon Road, as drains were overflowing.
Businesses in Abingdon Road have called for flood barriers to be installed.
Mohammad Afzal, from the Nisa general store, said people could not get to his shop "unless they wear very big wellies".
"This is now the second time in a month this has happened, I guess we are going to have to get used to it," he said.
"But, we have to plan in future what we do, like rerouting the water."
Rodney Rose, deputy leader of Oxfordshire County Council, said the flooding was as bad as in 2007.
Elsewhere, up to 20 people were rescued on Saturday from a caravan park near Northmoor by fire crews using inflatable rafts.
Residents of Duke Street, Earl Street, Bullstake Close and Botley Road in West Oxford were also sent letters by the city and county councils on Monday warning them that their homes may flood due to rising water levels.
The authorities advised them to move belongings upstairs and to consider moving to alternative accommodation.
Farmer John Hook said up to half of his land near Standlake was underwater.
He said the cost was "incalculable".
"The amount of work we have to do to regenerate the soil is just terrible," he said.