Oxfordshire politicians in flood defence talks with government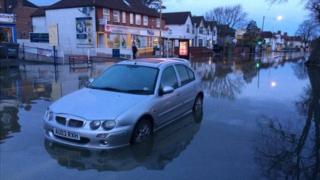 Oxfordshire politicians have called on the government to back a major flood defence project for the county.
MPs and local councillors met with Downing Street advisers earlier to highlight the "major impact" the recent flooding had on the regional economy.
They cited the closures of major routes, including Abingdon Road and Botley Road, as reasons.
They want a new channel to be created in the River Thames to improve "flood flow capacity".
County councillor Rodney Rose, city councillor Bob Price, and MPs Nicola Blackwood and Andrew Smith told the Prime Minister's advisors the "full benefit to the regional economy of the recent city deal could be undermined by failing to invest in adequate flood defences".
They said the estimated loss per week to the South East economy during severe flooding of 2007 was £50m.
It is not known what the full cost of the recent flooding will be.
The councils want to build a "Western Conveyance Channel" around Oxford, which they said would function in a similar way to the Jubilee River in Windsor and Maidenhead.
It would allow water to "pass through and around Oxford more efficiently and significantly reduce flood risk to premises and transport infrastructure", they said.
Flooding summit
It is thought the channel, along with a flood defence scheme at Abingdon, could cost up to £125m.
The councils have argued additional national funding needs to be found to make the scheme viable and to counter the "serious" economic impacts.
They said a flooding summit had been arranged for March for "local and national stakeholders to work together to find ways to make the channel happen".
Mr Rose, deputy leader of Oxfordshire County Council, said: "We make every effort to keep Oxford open for business, but when people have trouble getting in and out of the city, the county and regional economies are hit hard too."
He added the councils would keep the Prime Minister's advisors "up to date" with discussions.
Mr Price, leader of Oxford City Council, said the authorities were "committed to tackling the problem we face with flooding in Oxford".
Nicola Blackwood, MP for Abingdon, described the human and economic cost of flooding each year as "unacceptable" and said Oxford and Abingdon needed long term flood defences.
Andrew Smith, MP for Oxford East, said they had presented a "very strong case" to Number 10, and the delegation described the discussions as "very constructive".