Oxford University BME students speak out on prejudice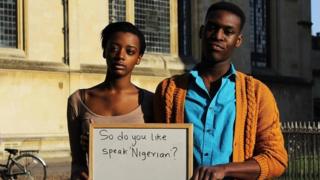 Oxford University students from ethnic minority backgrounds have put photos online highlighting the prejudiced comments they say they receive.
The "I, too, am Oxford" campaign was inspired by a similar initiative at Harvard demanding minorities' views be heard on campus.
Campaigner Anirudh Mandagere said their experiences were "underreported, underrepresented and often ignored".
Oxford University said it was committed to listening to its students.
Participants said they faced daily encounters in which they were made to feel different and were asking that a discussion on race be "taken seriously and that real institutional change occur".
Campaign organiser Lina Abushok said: "It's not just about the microaggressions we experience at a personal level, it stems from institutional things."
She added that minorities were not represented within the university staff, or in its "Euro-centric" history courses.
She added: "Some of the boards might be seen as offensive or shocking because they're the incidents that people remember, and it's the most brutal ones you remember.
"Be not unafraid to ask questions but recognise the way in which you phrase them might at times be problematic. If someone says that's offensive... be reciprocal to what people are telling you."
Fellow student Jaylee Ali said: "Sometimes people seem to be intimidated by me when I walk into a lecture theatre.
"The worst thing was being accused of trying to steal my own bike when in fact I was locking it up in the city centre.
"Get to know me before judging me and I feel that's the same for all people of all races all over the world."
However, student Alexandra Wilson is planning a counter-campaign.
She added: "We acknowledge that these sorts of misguided perceptions and prejudices need to be challenged [but] we think the campaign suggests this experience is representative of the majority of ethnic minorities, and we disagree."
Oxford University says 24% of its students of known ethnicity come from black and minority ethnic backgrounds, a figure Mr Ali said was not immediately obvious from first hand experience.
The university said: "[We are] committed to selecting students on the basis of academic ability and potential alone - to remain a world class university, we need to attract the most talented students from all backgrounds, so it would be counterproductive to discriminate.
"We spend more than £5m each year on outreach work to encourage students from all ethnic and socio-economic backgrounds to apply to Oxford.
"It is not surprising that bright, articulate students from Oxford, Harvard and other leading universities are discussing what more can be done to ensure a fully inclusive university experience.
"As a result staff and students have agreed to continue working together to deliver the best possible academic and social experience for all Oxford students."
In December civil rights activist Rev Jesse Jackson said the university was not doing enough to encourage black and ethnic minority students.