Eileen 'Ellie-May' Doran's family in tribute to toddler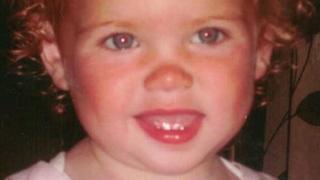 A two-year-old girl who died after being hit by a reversing car on an Oxfordshire caravan site was "cherished by everyone", her family has said.
Eileen "Ellie-May" Doran was struck while at Oaks View Park, Upper Arncott, on Saturday.
She was taken to hospital but was declared dead shortly after her arrival.
A 49-year-old man was arrested on suspicion of causing death by careless driving and bailed until 31 March.
A statement, released on behalf of her family by Thames Valley Police, said Ellie-May loved to drink cups of tea.
She was also described as "tiny" with blonde ringlets "like Shirley Temple" and eyes "blue like the sky".
"She was so loved and is missed - she was cherished by everyone," it read.
"Her memory will never die and we will never forget her. She is now in heaven with her uncle Michael."