Shiplake College rowers: Man swept over Thames weir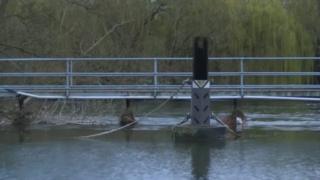 A man had an "astonishing escape" after being swept over a weir on the River Thames as he tried to help a school rowing team that was in difficulty.
The man had been in a support boat helping the team of children from Shiplake College who became stuck on safety chains at Shiplake Weir, Henley.
Fire crews said the support boat was swept under the chains, towards the weir, plunging the man into the water.
The school said all staff and pupils were safe and had been accounted for.
Eyewitnesses said the incident happened at about 16:45 GMT.
A message on the school's website said: "There was an incident this afternoon involving a Shiplake rowing boat on the River Thames. All those involved are safe and well."
'Clinging on'
It is believed the rowing boat, containing eight teenage rowers and a coxswain, became pinned up against catch chains about 100m (328ft) from the weir.
A support vessel went to help but was swept underneath the chains and downstream, where the man tried to save himself by clinging to the weir structure.
BBC reporter Nikki Mitchell, who spoke to people at the scene, said the man had "an astonishing narrow escape".
She said: "Fire crews think the boat went through the weir first while he was still clinging on and he eventually tired and was swept through the narrow gap of the weir - through the concrete pillars and metal gates - through the tiny gap in between, into violent white swirling water.
"The incident commander said he has no idea how the man survived this but he did. The weir spat him out, up to the surface again, and he survived with very few injuries."
Shiplake College boys' school, which charges £6,210 a term, has its own rowing club with pupils learning the sport from the age of 13.