Joanna Trollope donates manuscripts to Bodleian Library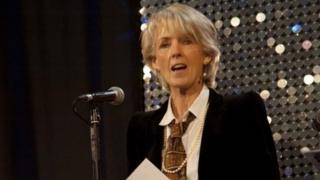 Best-selling British novelist Joanna Trollope has donated the manuscripts of her works to Oxford's Bodleian Library.
The archive includes 18 contemporary fiction books, two non-fiction publications, 10 historical fiction works, and her short stories.
She described the historic library as an "ideal home", adding: "I couldn't be more honoured."
The author's works include A Village Affair, The Choir, and The Rector's Wife.
'Act of generosity'
Trollope, who was made an OBE in 1996, studied English Literature at St Hugh's College Oxford between 1965 and 1967.
She said: "My association with Oxford goes back a long way and continues to this day.
"Not only was I an Oxford scholar, but so was my father.
"Moreover, my own daughters were at Oxford colleges and my young grandchildren are educated in the city too. So, it could not be more satisfactory."
Richard Ovenden, Bodley's librarian, said the donation was an "insight into the craft of an immensely popular writer and flag bearer for fiction".
He added: "Her novels, always handwritten, are meticulously researched and the collection provides an insight into this process.
"Her act of generosity to the Bodleian will be appreciated by literary and cultural historians and, through displays, the public who enjoy her writing so deeply."