Jeanne Marie Ryan: Man arrested over 'selfie' club attack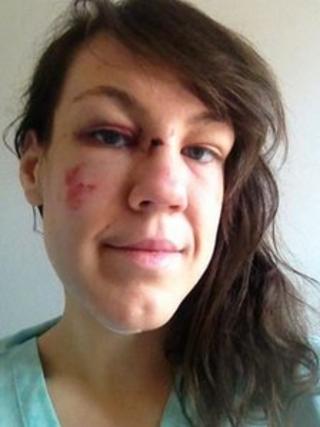 A man has been arrested in connection with a sexual assault on an Oxford University student, who later posted a selfie online of her injuries.
Jeanne Marie Ryan was attacked when she confronted a man for groping her on the dance floor of the Plush Lounge, in Park End Street, on Saturday.
Thames Valley Police said a man, 18, from the Edgware area of London, is due at a police station on 1 April.
Ms Ryan, 29, later posted a selfie online of her bruised face.
She described the picture as her version of a #nomakeupselfie, referring to the recent craze in which women post pictures of themselves without make-up on Twitter and Facebook.
Ms Ryan also started a charity donations page raising money for the Oxford Sexual Abuse and Rape Crisis Centre (OSARCC) to avoid "stewing in anger about what happened".
She has since raised almost £15,000 for the charity.