Oxford Boat Race crew's bus raided while team raced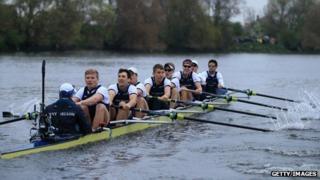 The minibus of the victorious Oxford Boat Race crew was raided by thieves while the team took part in the contest on the River Thames in London.
A rucksack and a red bag containing the crew's belongings were stolen from their parked minibus at the Quintin Boat Club in Chiswick on Sunday.
It happened between 17:20 and 19:00 BST as the Oxford crew achieved their biggest winning margin since 1973.
The rucksack was discovered later in a toilet, the red bag has not been found.
Police said items stolen included cash, watches, credit cards and mobile phones.
Oxford won the 160th Boat Race, beating Cambridge by 11 lengths and crossing the line at 18:36 BST.