Car crashes through Bicester Co-op store window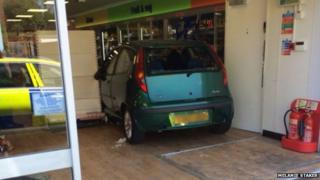 A shop worker was injured when a car crashed into a store in Bicester, in Oxfordshire.
Police said a green Fiat was accidentally driven into the Co-operative store in Bassett Avenue through a window shortly before midday.
Officers said a female staff member was taken to hospital with minor injuries.
The woman driving the car was treated for shock at a nearby doctor's surgery. The store was closed for the rest of the day, but will reopen on Wednesday.