Work on £3m community centre to start this summer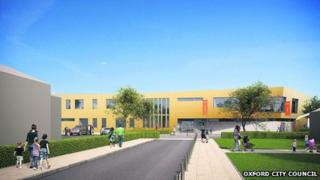 Construction of an Oxford estate's new £3m community centre is expected to start in July.
The new facility for Rose Hill will house a social club, advice centre and youth club as well as a new doctor's surgery, a community gym, and an office for Thames Valley Police.
The building, which will be owned by Oxford City Council, will be built in Ashhurst Way.
It is due to be completed during spring 2015.
The city council approved the plans in October.
Ed Turner, city council deputy leader and councillor for Rose Hill and Iffley, said: "The new Rose Hill Community Centre is going to have a whole range of facilities.
"For example we are going to have a social club, which is in the existing community centre at the moment, and meeting rooms. There is also going to be changing rooms for the adjacent football pitches, a gym, a youth club. There is going to be a headquarters for the police community support officers, the advice centre and importantly there is going to be a health facility.
"We have got the building contract out to tender at the moment and hope to appoint a builder to start on the site in July and then we would see it open in the middle of next year."
The existing community centre in The Oval will be demolished and the land could be used for housing.
It will remain open until the new centre is completed.
Fran Gardner, Rose Hill community worker, said: "The existing building is feeling its age a little bit and I think when we do get into the new building it will be a great experience for everybody."