RSPCA appeal after tumours dog tied to Oxford railings is put down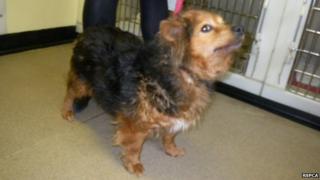 The RSPCA is appealing for information after a dog suffering from cancerous tumours was found abandoned tied to some railings in Oxford.
The charity said the elderly female dog had two ruptured mammary tumours "the size of apples" which would have been "incredibly painful".
The RSPCA said it was possible the person responsible could be prosecuted under the Animal Welfare Act.
The dog, whom staff named Lara, had to be put down on Monday.
'Very sad story'
Inspector Andy Eddy, of the RSPCA, said: "If she had received treatment sooner, we may have been able to save her.
"How anyone could just dump an elderly dog in pain like this amazes me, especially with a medical condition which needs attention."
Lara was found "dumped along a footpath" between Cowley Road and Cricket Road at 17:00 BST on 23 April by a young girl on her way home from school.
She was taken to a vet and then an RSPCA centre for care, but her condition was so serious that under vet advice she was put her to sleep "to end her suffering".
Mr Eddy said: "She was such a good natured little thing, the whole story was very sad."