Bicester Tubbs Lane footbridge 'towers' over nursery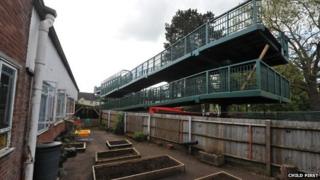 Staff at an Oxfordshire nursery say children can no longer use the school garden after a large railway footbridge was built overlooking it.
Head of Child First in Bicester Andrea Leonard said they had no warning the structure would "tower 20 feet" above the nursery.
She said it had caused "a lot of security and privacy issues".
Network Rail said it would try to "alleviate concerns" and the bridge was built to improve accessibility.
'Metal monstrosity'
Ms Leonard described her shock when she returned to work after the bank holiday weekend to find the bridge had been erected close to the 6 ft (1.8m) fence at the back of the nursery.
"It's a huge, green, metal monstrosity. It completely overwhelms the nursery," she said.
"We have a secluded garden where the children grow fruit and vegetables and we simply can't use it - there is the risk of stuff being thrown from the bridge."
A statement from Network Rail and Chiltern Railways said: "The Tubbs Lane bridge has been constructed to provide a safer alternative to an old level crossing on the Oxford - Bicester rail line.
"The bridge is ramped so that it is fully accessible to all members of the community.
"We have visited Mrs Leonard and discussed her concerns regarding the footbridge. We will continue to work to find a solution to alleviate her concerns."