Oxford University spends £1.8bn on new facilities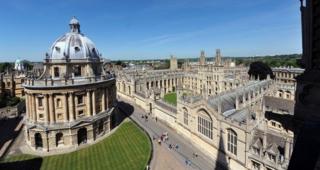 Oxford University is to spend £1.8bn on new facilities to help it compete with institutions around the world.
The 10 year strategy will provide new laboratories, libraries, study spaces and student accommodation.
It includes projects already under way such as the Radcliffe Observatory Quarter, which is scheduled for completion in 2015.
The schemes will increase the size of the university's estate by more than a quarter.
University estates manager Paul Goffin said: "In order to compete with the best universities in the world to attract top students and academics to Oxford, we need to provide suitable research facilities and student accommodation.
Consultation process
"We are pleased that jobs will be created in the construction and staffing of these buildings, and that our aim to house as many students as possible in university accommodation will ease the burden on Oxford's rental market."
The university said it had improved its consultation process for developments following an independent report about its controversial Castle Mill development at Port Meadow.
The report by Vincent Goodstadt, a former president of the Royal Town Planning Institute (RTPI), said the consultation process for the student flats had been inadequate.
Mr Goffin said: "As each application is brought forward we will be careful to consult with nearby residents and other interested parties following the recommendations of Vincent Goodstadt's recent report."
The university is currently consulting over plans for its Big Data Institute and the Amenities Building on the Old Road Campus.