Llamas and alpacas cause traffic delays in Whitchurch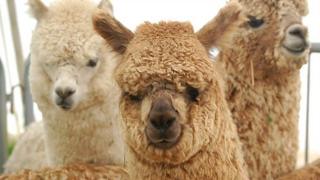 About 20 escaped llamas and alpacas have delayed motorists in an Oxfordshire town.
The animals, from Bozedown Alpacas, were discovered on the road at the B471 Whitchurch Hill, between Hardwick Road and the B4526 at around 11:00 BST.
Drivers between Whitchurch-on-Thames and Woodcote were advised to stay away from the area.
Police were called to the scene and alerted owner Mary-Jo Smith, who was able to round them up.
She said only a small number of the stud farm's 700 animals escaped.
She added: "We think a little garden gate was left open.
"They are curious creatures, so they went for a wander. They had been split into two groups because of the cars, but once we got them back together we were able to run them into their field and they are happily grazing again now."