Banbury child sex exploitation raids: Five men arrested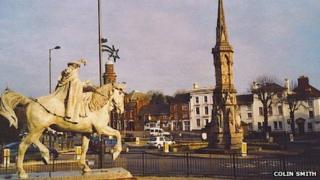 Six men have been arrested by detectives investigating allegations of child sexual exploitation in north Oxfordshire.
The men, aged between 18 and 21 and from Banbury, are in police custody on suspicion of sexual offences.
They relate to three female victims and took place between 2011 and 2014, when the girls were aged 13 and 16.
Nearly 50 officers carried out warrants in and around the town at five addresses at about 06:00 BST.
A sixth man voluntarily handed himself in following the raids, police said.
It follows an investigation by the Kingfisher team, a 20-strong unit based in Cowley, Oxford, which was set up in 2012 to tackle child sexual exploitation.
Ch Insp Helen Roberts said: "We hope that today's operation not only offers protection to these victims but also any others who we are encouraging to come forward.
"I understand today's events will have an impact on the local community and people will rightly be concerned about the nature of these arrests."
Jim Leivers, director of children, education and families at Oxfordshire County Council, said: "These arrests are the result of social workers, health professionals and Thames Valley Police working closely together to tackle child sexual exploitation in Oxfordshire.
"The arrests relate to the abuse of very vulnerable young people who told social workers that they were being sexually exploited.
"They were referred to Kingfisher as soon as their suspected involvement in child sexual exploitation came to light, and we have been supporting them since then including at the time of the arrests."