Oxfordshire unveils plans for new children's homes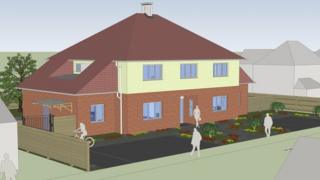 Four children's homes for vulnerable youngsters are being planned in Oxfordshire.
Plans for homes in Didcot and Thame as well as two in yet-to-be confirmed locations would cater for 20 children.
Oxfordshire County Council said it would mean children could stay close to their families instead of being sent to homes outside the county.
The project will cost £7m at a time when the county council has to make £64m of cuts across many services.
Money-saving homes
A spokesman said "in the long run" the homes would save at least £500,000 a year "by reducing the need for placing children in settings outside the county".
Currently, most of the 500 children in council care are looked after by foster families.
But about 20 to 30 are sent outside the county at any one time, according to Councillor Melinda Tilley.
She said the homes would mean the majority of these children, "who have often experienced traumatic childhoods", would be able to stay closer to home.
She added that sending children to out-of-county placements "many miles away" could "not be as effectively monitored".
One home would be an assessment centre off Chinnor Road, Thame, providing short-term accommodation for six children at risk of coming into the care system.
The home proposed for Mereland Road, Didcot is a "move-on" home for four 17 to 19-year-olds preparing to leave the council's care.
The council is also planning another assessment centre and move-on home at locations yet to be confirmed.
The public can view the plans at Didcot Civic Hall from 16:00 BST and on Thursday at Thame Town Hall from the same time.