Council discussing 4,000-home 'garden city' plan in Oxford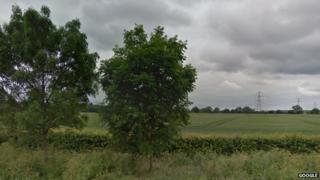 Oxford City Council is to discuss joining up with other landowners to create a "garden city" development that would include 4,000 homes.
The council wants homes to be built on land south of Grenoble Road in Oxford.
But South Oxfordshire District Council, the planning authority, has opposed development on the green belt land.
City council leader Bob Price said a housing market assessment showed the city needed to build an extra 25,000 homes by the end of the decade.
He said it was important to have a "comprehensive approach" to development south of Grenoble Road rather than a "piecemeal" one.
'Integrated community'
The council wants to work with other land owners in the area to discuss a development plan for the area.
Mr Price said Magdalen College and Thames Water, which own land to the west of the site, wanted to develop housing but also scientific and high-tech developments.
He said: "The district councils are all reviewing the local plans to reflect the housing market numbers. In that context it's important to work with the other land owners in that area to have a comprehensive approach to the development south of Grenoble Road, not just a piecemeal development of parts of it.
"The idea is to have an integrated community that will have jobs, houses and local facilities built in what will be a garden city-type mode of development."
A spokesman for South Oxfordshire District Council said: "While we appreciate the leader of Oxford City Council has aspirations to develop this area, it is important to remember the land adjacent to Grenoble Road is in South Oxfordshire.
"We are currently reviewing our local plan which considers how south Oxfordshire's housing need and associated infrastructure should be addressed in our own district. We encourage people to have their say by taking part in our consultation by visiting our website."