Didcot A Power Station's demolition timing criticised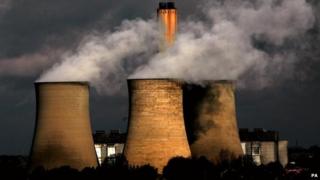 Plans to demolish Oxfordshire's Didcot A Power Station in the early hours of the morning have been criticised by local authorities.
RWE NPower is due to blow up three of the southern cooling towers between 03:00 and 05:00 BST on 27 July.
South Oxfordshire and Vale of White Horse District Councils said it was disappointing people would miss the "historic occasion"
The company said the timing was decided to minimise disruption.
RWE NPower closed the coal-fired facility in March 2013 after 43 years of service.
'Huge importance'
The demolition of the cooling towers is expected to take less than a minute, with the rest of the site taking up to three years to clear.
David Buckle, Chief Executive of both councils, called for a review or the timing, calling the power station a "landmark of huge importance".
"Children and many adults who have only known Didcot with the towers will not be able to witness this historic occasion," he added.
The company said the date and time of the work had been "the subject of careful consultation" with police, the Health and Safety Executive and Network Rail.
RWE Npower sold part of the site of Didcot A Power Station to Clowes Developments in April for commercial and residential use.