WW1 poet Wilfred Owen remembered at All Saints church in Dunsden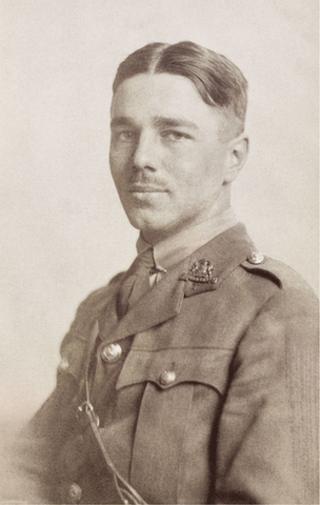 A church in Oxfordshire where World War One poet Wilfred Owen worked has put his poems to music to mark the centenary of the declaration of war.
The poet and soldier worked at All Saints in Dunsden as a lay assistant from 1911 to 1913.
Owen's parents and sister lived locally and are buried in the churchyard.
His poems were published posthumously in 1920 after he was killed in 1918 leading his men across the Sambre canal at Ors in France.
Owen's work was characterised by his anger at the cruelty and waste of war he experienced during service on the Western Front.
The concert at the church included three commissioned compositions of Owen's poems - Anthem for Doomed Youth, Futility and The Next War - performed by The Reading A440 Choir.
Owen, originally from Shropshire, was killed on 4 November 1918 while attempting to lead his men across the Sambre canal at Ors.
The event, called Light Into Darkness, formed part of a series of night-time vigil events in Oxfordshire.
Across the UK, people were encouraged to turn out their lights and leave a single candle burning to echo Sir Edward Grey, foreign secretary in 1914, who said on the eve of war: "The lamps are going out all over Europe, we shall not see them lit again in our lifetime."
St Helen's Church in Abingdon-on-Thames held a vigil and reading of the roll of local residents who went off to war in 1914-18.
The Abingdon Town Band performed at the War Memorial in The Square before a service of commemoration and switching off of lights at 23:00.
St Edburg's Church in Bicester marked the centenary with an evening of prayer and quiet vigil and the War Memorial in Didcot also held a Lights Out service.
In Banbury there was a civic procession from the town hall to St Mary's Church, followed by a vigil service and the reading of the names on the Church War Memorial of service men and women from Banbury who lost their lives during the war.
Elsewhere, Bonn Square in Oxford city centre held a "peace event" called War To End All Wars?.