Twitter comment Labour councillor reinstated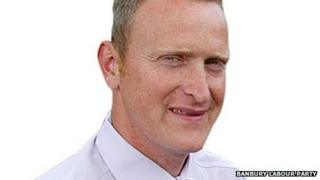 A Labour councillor has been reinstated to the party after he was suspended when a controversial tweet was sent from his account.
The tweet appeared to link Conservative Party housing policy for the disabled to concentration camps.
Mark Cherry, a district and county councillor in Banbury, Oxfordshire, said his account was hacked and he did not post the image.
The suspension was lifted and Mr Cherry did not want to comment on the news.
A number of complaints were lodged about the tweet.
'Horrified'
Mr Cherry, who remained an independent councillor during the inquiry, said he had informed police and changed his password.
Speaking at the time, he told BBC News: "I was horrified when I saw it. I've had my email broken into and my account hacked before.
"There is an investigation and I'll be able to give my side of the story. I know I'm innocent."
The tweet from Mr Cherry's account was sent to @EtonOldBoys - a spoof David Cameron account - and featured a computer-generated image of what appears to be a concentration camp.
A Labour Party spokesperson said: "There has been a thorough investigation by the National Executive Committee into the tweets from Mark Cherry's accounts.
"Following the investigation Mr Cherry's suspension has been lifted."