Sonning's Playhatch Road repairs to start in October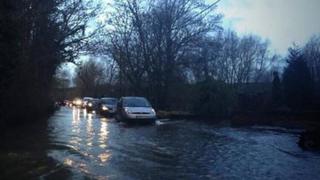 A main commuter route linking Berkshire and Oxfordshire blighted by flood damage will undergo major repair work in October.
The B478 Playhatch Road towards Sonning Bridge over the River Thames flooded in January but still has temporary traffic lights and one lane closed.
Oxfordshire County Council said site investigation work is now complete and design work is underway.
It added "a complex engineering process" had caused delays to repairs.
The road leads up to one of three bridges in the area over the River Thames that is used heavily during rush hour traffic.
Its two-week closure in January caused major traffic disruption and traffic signs are still in place warning of congestion on the damaged road.
Oxfordshire County Council deputy leader Rodney Rose said repair work was now planned for October.
At present there is no date for the completion of the work.
Sonning Parish Council chairman Pat Doyle said the damage and consequent traffic disruption was an argument for "another bridge" over the River Thames.
He said: "Our little bridge isn't even as wide as the average drive way."