Katherine Grainger unveils Henley's first public defibrillator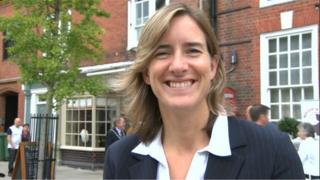 Olympic rower Katherine Grainger has unveiled the first community defibrillator for Henley-on-Thames.
It allows people to help victims of cardiac arrest by dialling 999 and receiving a code to access the device.
The machine will then talk people through the procedure in simple steps.
Ms Grainger, vice patron of charity Millie's Dream which installed the device, said: "It's a genuinely simple device and a machine that can save lives."
The community defibrillator is on the wall of HSBC bank in the town's Market Place.
The machine delivers an electric shock to the heart when someone is having a cardiac arrest.
Ms Grainger, who calls Henley her rowing home, said: "A lot of people are quite scared of medical equipment.
"But anyone can use it and it talks you through the steps.
"So to have it in the heart of a very busy town centre that anyone can access will hopefully make a huge difference."
According to the British Heart Foundation around 60,000 out-of-hospital cardiac arrests happen in the UK every year.
Stephen Cartwright, a community responder with South Central Ambulance Service said: "Our aim is to get a defibrillator within six minutes of every single member of the public."
Also present at the unveiling was donor Piers Burnell, who lost his sister to cardiac arrest, and town mayor Martin Akehurst.
Millie's Dream, set up by schoolgirl Millie Roberts after she was diagnosed with cardiac arrhythmia, has so far donated defibrillators to 20 schools and 11 communities.