Oxford burst water main flooding investigation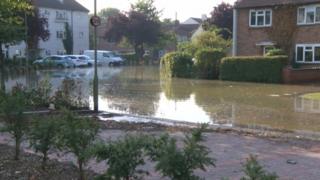 An investigation into a burst water main in Oxford will take six to eight weeks to complete, Thames Water has said.
Some residents are living in temporary accommodation after water flooded about 50 homes in Normandy Crescent, Cowley on 23 September.
It is the second time in seven years the pipe has burst.
The water firm has apologised but said it was "very unlikely" the two incidents were related.
In 2007, some residents spent six months in temporary accommodation.
Becky Trotman, from Thames Water, described the current investigation as "thorough".
She added: "I would like to stress it isn't the same section of pipe so what happened last week is very unlikely to be related to what happened in 2007."
'Skips emptied'
Residents had complained not enough was being done to clean up properties, and councillor Liz Brighouse raised health concerns.
Ms Trotman said damaged goods had since been removed from the homes its loss insurers were dealing with.
However, she added some properties were being dealt with by private insurers which Thames Water had no control over.
She said rubbish skips at the site had also been emptied.
Some 75 people are currently living in temporary accommodation.