Bus crash on A4074 in Oxfordshire leaves four injured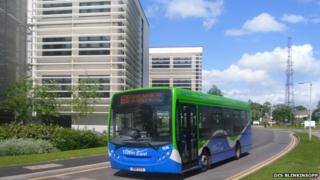 A head-on crash between a bus carrying 15 passengers and a van has left four people hurt in Oxfordshire.
The driver of the Thames Travel service had to be cut out from the vehicle and was taken to hospital along with a passenger and the van driver. Another bus passenger was treated at the scene.
The vehicles had been travelling along the A4074 between Chasey Heath and Cane End when they collided on Monday night.
The road was closed for five hours while emergency services investigated.
Phil Ashworth, a spokesman for Thames Travel, said: "Our thoughts are with the passenger and the driver who were injured in the accident.
"Our driver is in hospital with serious but not life-threatening injuries and we hope both have a speedy recovery."
Oxfordshire fire and rescue said the service had been called to five accidents on Monday and warned drivers to take extra care during wet weather.