The Plain, Oxford roadworks delayed to ease traffic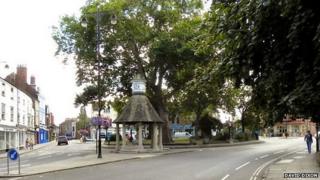 A revamp of a key Oxford city roundabout is being delayed until after Christmas to ease the congestion already caused by multiple roadworks.
Work on The Plain was due to start on Monday but will now take place after work on the Kennington roundabout and Southern bypass is completed.
Oxfordshire County Council leader Ian Hudspeth said he had taken on board complaints made by delayed commuters.
New pedestrian routes and cycle lanes are planned for the roundabout.
Mr Hudspeth added: "We understand how everyone's feeling at the moment, we're all commuters as well… and we're trying to do our best to alleviate the problems for everybody.
"We looked at the situation and thought, yes, we're able to delay this... and then still get the work done on time."
The work on The Plain is financed by a cycle city ambition grant.
Roadworks around Oxford this month include work on the Southern Bypass, the A420 London Road and the Worcester Street junction with George Street.