Duke of Marlborough's funeral takes place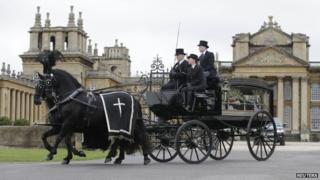 The funeral of the Duke of Marlborough has taken place in Oxfordshire.
John Spencer-Churchill, the 11th Duke of Marlborough, died on 16 October aged 88.
Mourners lined the route of the cortege as it travelled to a private service at St Mary Magdalene in Woodstock from the duke's Blenheim Palace home.
The palace, a Unesco World Heritage Site, and its formal gardens have been closed for the funeral.
Its park remains open and entry is free of charge for members of the public "wishing to pay their respects".
Speaking before the funeral, Reverend Canon Adrian Daffern, who lead the service, said of the duke: "He was always extremely kind, avuncular, with a wonderful twinkle in his eye.
"We got on famously well and at every encounter he had the most wonderful presence, poise and demeanour.
"He was an extraordinary constant for the whole community, it really does feel like the end of an era."
Blenheim Palace was built in the 18th Century as a gift to the first duke, John Churchill, and was the birthplace of Winston Churchill.
The estate is one of Britain's most notable tourist attractions and it was the duke's life's work to preserve it for future generations.
The 11th duke, who married four times, is succeeded in the title by his son Jamie Spencer-Churchill, the Marquess of Blandford, one of the duke's four surviving children.