Didcot B power station generating again after fire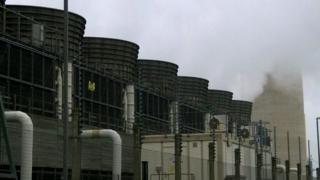 Part of Didcot B Power Station is generating electricity again after a switch-on operation likened to starting up the Starship Enterprise.
It is understood the unit will produce about 350MW - roughly half its normal capacity of around 700MW.
Station manager Neil Scott said the switch-on began on Tuesday and was not simply a case of flicking a switch.
On Tuesday, National Grid warned that its capacity to supply electricity this winter would be at a seven-year low.
Mr Scott said it involved a "massive" operation which he compared to starting the fictional Star Trek spaceship.
"It's a bit like Starship Enterprise if anything - it's massive technology and computer systems, and control systems," he said.
He also said it involved "years of experience and knowledge" from its staff.
The Didcot B blaze on 19 October was among the closures and generator breakdowns which have contributed to problems.
At its height, 25 fire engines and about 100 firefighters tackled the fire, which started in a cooling tower.
The plant's other unit has continued to operate normally.
For the foreseeable future the plant is expected to provide about three quarters of its full power capacity.
That is 1 to 1.1GW of power compared to its full capacity of just under 1.4GW.