Banbury warehouse gutted by fire to be rebuilt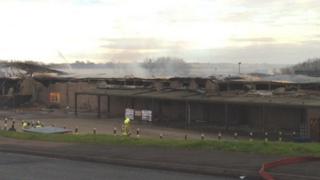 A warehouse destroyed in an accidental fire in Oxfordshire is to be redeveloped after planners gave permission for it to be replaced.
Cherwell District Council has approved plans to build a terraced building on the site of the former Oak Cash and Carry building in Banbury, Oxfordshire.
In December the disused warehouse, in Beaumount Road, was gutted by fire.
The new building will comprise three separate industrial units and supplementary office space.
'Devastating fire'
Developers Hill Street Holdings have three years to build the new warehouse.
Councillor Michael Gibbard, lead member for planning at Cherwell District Council, said: "This planning application has come about following a devastating fire last year which many people in Banbury will remember.
"The application is not controversial as it is simply seeking to re-establish premises which were destroyed in the blaze.
"As such, we have no objections and wish the applicant Hill Street Holdings well in their efforts to rebuild business on site."
The new building will extend to 11.2m (36.7ft) in height and cover a floor area of 3,909 sq m (42,076 sq ft).