Oxford University dons in immigration removal centre plea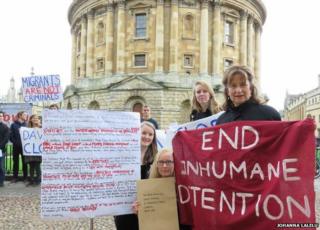 Oxford University academics are calling on David Cameron to release detainees at a local immigration removal centre.
Nine college heads are among 70 signatories of an open letter to the Prime Minister against Campsfield House in Kidlington, Oxfordshire.
Prof Danny Dorling said he opposed "the need to lock people up" when "they have broken no laws".
The Home Office said the centres "play an important role" in removing people with "no right to remain in the UK".
'Treated worse than criminals'
Barrister and principal of Mansfield College, Baroness Helena Kennedy QC and Prof Dorling, Halford Mackinder Professor of Geography at St Peter's College, helped to formally launch the letter outside the city's Radcliffe Camera before its journey to 10 Downing Street.
The letter details concerns among senior academics about government policy on the detention of immigrants.
It stated: "We certainly do not find it acceptable that they should be detained without trial, without time limit, without proper judicial oversight and with little chance of bail, and thus treated worse than criminals."
The letter also calls for the withdrawal of Home Office plans to expand Campsfield, which houses illegal immigrants and failed asylum seekers, from 260 beds to 610.
Oxford University Amnesty International President Jo Hynes, who organised the event, said: "The UK detains more migrants, for longer and with less judicial oversight than any other country in Europe, yet the facts are clear: immigration detention doesn't act as a supposed deterrent to immigration and contravenes basic human rights."
The Home Office said detention was "a last resort" for people who did not leave voluntarily and that the "majority of detainees are held for less than two months".
A spokesman added that delays to release were caused if a detainee did not provide accurate identity information, raised last-minute legal challenges or was considered "disruptive".