Jayden Parkinson hostel One Foot Forward to close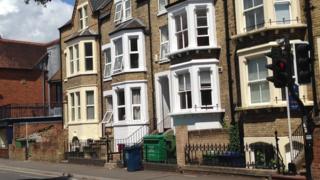 The Oxford hostel where Jayden Parkinson lived before she was murdered by her ex-boyfriend is to close.
One Foot Forward will be "decommissioned" by 31 March and its residents transferred, Oxfordshire County Council said.
More than 200 people signed a petition calling for the hostel to be shut because of anti-social behaviour.
Jayden, 17, was staying at the Iffley Road hostel when she was murdered by Ben Blakeley in December last year.
BCHA, the organisation that runs the hostel, said it had not put in a bid to carry on providing the service elsewhere, but would not give the reason behind its decision.
The county council announced in March it was reviewing its contracts for young people's supported housing including One Foot Forward, which was reaching the end of a five-year contract.
"It brings a long saga to a conclusion," said David Williams, councillor for Iffley Fields and St Mary's.
"It is a relief that a centre of problems will not be there but we must do as much as we can to support vulnerable youngsters."
He said he thinks a change in general policy on how vulnerable young people are supported could have been prompted by the case of Jayden.
"There have been a number of high profile problems in the press," he said.
The results of a serious case review into Jayden's case is expected to be published early next year.
She left the hostel last December to meet Blakeley in Didcot. He strangled her there and buried her in his uncle's grave.
One Foot Forward currently provides emergency 24-hour accommodation for 20 homeless young people, aged 16-25.