Oxfordshire house plan to be examined by planning inspector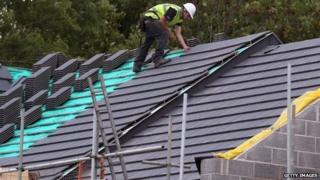 Plans to build more than 20,000 homes in Oxfordshire will be scrutinised for a second time by a planning inspector.
An examination of Cherwell District Council's local plan, which outlines where to build 22,800 homes by 2031, will resume on Tuesday.
It was halted in June after a report said more homes were needed in the county than the council first thought.
The new plan includes nearly 6,000 more homes and 80 more hectares of business space.
'Robust defence'
The examination, which lasts for two weeks, will test the soundness of the plan and will hear from councillors and other people affected by the proposals.
Councillor Michael Gibbard, lead member for planning at Cherwell District Council, said the plan would "guide future development and provide a robust defence against future, sporadic housing developments".
Originally, the district council proposed delivering 16,750 homes and 155 hectares of business space between 2006 and 2031.
But, the examination was suspended in June following the publication of Oxfordshire's Strategic Housing Market Assessment, which was released after the plan had been submitted.
It showed the need for more homes in the Cherwell local plan.
The revised document proposes 7,319 homes for Banbury; 10,129 homes in Bicester and 5,392 to be built across Kidlington and rural areas.
An additional 1,600 homes are proposed at Former RAF Upper Heyford.