HMP Bullingdon: concern over prisoner time in cells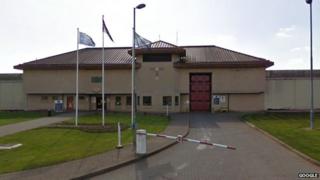 Concern about the amount of time prisoners spend locked in their cells at HMP Bullingdon in Oxfordshire has been raised by a report.
The Independent Monitoring Board, which reports on the prison to the Secretary of State, said there could be "serious consequences" for prisoners' rehabilitation as a result.
It also highlighted low morale among staff and high rates of sickness.
Prisons Minister Andrew Selous said staff were running a "stable regime".
Other issues highlighted in the 2013-14 annual report include delays in processing prisoners' cases in the Offender Management Unit and low take-up and poor attendance for some education courses.
It said there were "considerable recruitment difficulties".
But the report also said there were positive changes at the prison near Bicester, including the increase in the number of family days provided by its activities hub and the speeding up of external processes for transferring mentally ill prisoners.
Paul Miller, chair of the monitoring board, said: "We welcome a response from the minister on how a declared commitment to a national policy of rehabilitation can be reconciled with the significant reductions at HMP Bullingdon in purposeful activity and the increased time prisoners spend locked in cells."
But Mr Selous said there were "consistent levels" of "purposeful activity" at Bullingdon and rising prisoner attendance at activities to help rehabilitation.
"A national recruitment campaign is under way and as new staff join the wings they will work closely with Thames Valley community rehabilitation company to provide through-the-gate resettlement to all offenders," he said.