Work starts on A34 'Hamburger' upgrade to Milton Interchange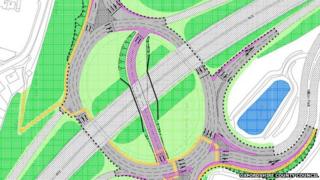 Work has started to upgrade a road junction in Oxfordshire to a "hamburger" style roundabout, as part of a £11m scheme to ease congestion.
The A34 Milton Interchange is to have a carriageway built through its centre. A tunnel will take travelling from Didcot onto the northbound A34.
Oxford County Council's cabinet member for transport David Nimmo-Smith said the work would boost capacity by 30%.
Lane closures will be in place while the work runs over the next year.
Hamburger roundabouts are so-called because the layout of the road running through the centre of the roundabout resembles a hamburger.
The project has been designed to enable the road infrastructure to cope with traffic using the Science Vale UK Enterprise Zone as well an additional 14,000 homes expected to be built in the area by 2029.
Mr Nimmo-Smith said: "It's running more-or-less to capacity at peak times. In a year's time people will see the difference."
The £11m scheme is being funded by the Department for Transport, Local Enterprise Partnership and the county council.