Unitary Oxfordshire council 'could save £32.5m'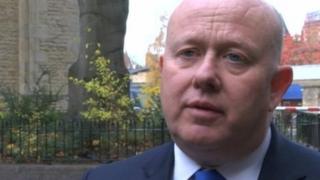 Merging Oxfordshire's six local authorities into one could save up to £32.5m a year, a report has claimed..
The £40,000 report, commissioned by Oxfordshire County Council, said the move could mean up to 500 job losses.
The county council said it could also lead to a reduction in council tax for 80% of residents.
But the four district councils have described the report as "error strewn", while the city council called the exercise a "waste of money".
'Salami slicing' services
Oxfordshire County Council has released the report, as the cabinet recommends a budget for 2015/16 which requires more than £20m of savings, on top of the £265m either made or already planned by 2017/18.
The creation of one county-wide local authority was "likely to be the most straightforward to implement".
It said this could reduce duplicate chief executives and senior managers, as well as cut the number of councillors from 309 to less than 100.
County council leader Ian Hudspeth said: "We are beyond the point where further savings can be achieved by finding more efficiencies or 'salami slicing' of services and we must find a different way of being able to provide essential services to our residents."
'Vastly overstated'
But in a joint statement, leaders of Cherwell, South Oxfordshire, Vale of White Horse and West Oxfordshire district councils said they were "disappointed" with a report which had been commissioned "at taxpayers' expense, without any consultation".
They also described the projected annual savings as "vastly overstated".
"All four rural districts are at the vanguard of modern, innovative and sustainable solutions that have already delivered, and will continue to deliver, significant and increasing savings for their local taxpayers," they added.
Bob Price, leader of Oxford City Council, said: "It's particularly disappointing that the county council - which is currently slashing crucial services for elderly, disabled and homeless people - is wasting resources on this exercise.
"There is a funding problem not a structural problem for counties."
The report, by accountancy firm EY, will be discussed by the county council's cabinet on 27 January.