Didcot Gateway plans unveiled by council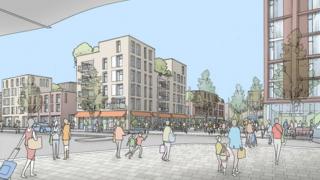 Plans for a £60m redevelopment of Didcot in Oxfordshire have been unveiled.
South Oxfordshire District Council's proposals for the new "Didcot Gateway" include shops, leisure facilities, apartments, and a hotel.
Council leader John Cotton said he wanted to "create a positive impact for people arriving in the town".
The site will be built opposite Didcot Parkway Station.
Mr Cotton said: "Didcot is going through a huge transformation, with better shops, facilities and transport links.
"In its current state, the site opposite the station fails to match up to this - however, we are confident that our proposals will give the town something special not too far in the future."
A council spokesman said an "attractive entrance" would provide a "much improved introduction" to the town and "draw greater investment" to the area.
New areas of open space will also be created to provide "more pleasant surroundings" around the station, he added.
Earlier in the month proposals to redevelop the site of the demolished Didcot A Power Station were also unveiled.
Developers Clowes and Graftongate want to build 400 homes, shops, a hotel and a pub on the land.
The plans for Didcot Gateway go on display at Cornerstone Arts Centre from 16:00 to 20:00 GMT, and on Saturday from 10:00 to 14:00.