Oxford University Labour Club 'sorry' for serving underage student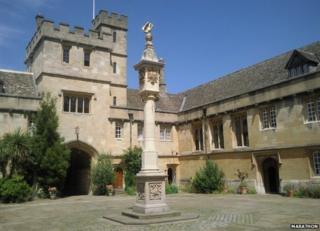 The Oxford University Labour Club has apologised for serving alcohol to an underage student at an event that offered "unlimited" drinks.
The event at Corpus Christi College was attended by Oxford East MP Andrew Smith and Reading West candidate Victoria Groulef.
Co-chairwoman Hannah Lovell said she was "really sorry" for the error.
The club said it had "learnt a lesson" and put in place a new policy to routinely check IDs.
Cocktails served at the event included the Peachy Mandelson and the Tonic Benn.
A 17-year-old subsequently "vomited on college property after drinking cocktails... shouted 'Vote Labour', ran around the college garden, and recited Latin after becoming intoxicated," according to university paper the Oxford Student.
Ms Lovell said: "There are very few under 18-year-olds who are students at the university and so we and other student societies don't routinely check.
"However [we] will be checking for ID next time. Hopefully other student societies will follow suit."
Mr Smith said he had not been aware alcohol was being served to under-18s.
He added: "They will need to be careful in future about how they advertise events and check the ages of those who are coming."
However, he described the promise of unlimited drinks at Monday's soiree as "probably student hyperbole".