Oxford sports hall named after Olympian Acer Nethercott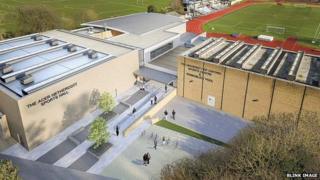 A new University of Oxford sports hall is to be named after a former student and Olympian who died at the age of 35.
Acer Nethercott was an Olympic silver medal-winning cox and also a double Oxford v Cambridge Boat Race winner, who died of brain cancer in 2013.
His mother Glynis Evans said naming the hall after her son was "a source of comfort as well as one of huge pride".
The building will be the first phase in the £60m redevelopment of the university's Iffley Road sports centre.
Mr Nethercott coxed the British men's eight to Olympic silver, in Beijing, in 2008.
Professor Andrew Hamilton, the university's vice chancellor, said: 'We are delighted to name our new sports centre building after Acer Nethercott.
"Acer was the model of a 'scholar-athlete' as he not only achieved incredible sporting success but also excelled in his studies at Oxford, gaining a first and a doctorate in the philosophy of language."
The sports complex will include an indoor tennis centre, a combined rugby and rowing training centre and a new grandstand incorporating a cricket school.
The sports hall should be completed in 2016.