Oxfordshire council chief Joanna Simons to step down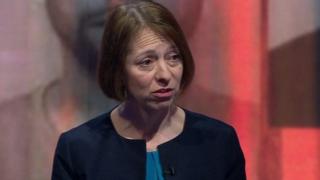 The chief executive of Oxfordshire County Council is to step down and not be replaced, as the authority "flattens its structure".
The council said Joanna Simons would be made redundant at the end of June in a "plan to protect frontline services".
Council leader Ian Hudspeth said the decision was made in the "certain knowledge" of further government austerity.
Ms Simons has previously attracted criticism because of her salary.
Mr Hudspeth said: "This is a big change for the council and it has not been a decision I have made lightly, but it is borne of the need to find new ways to deliver essential frontline services in the certain knowledge that further austerity is coming the way of the public sector over coming years."
A council spokesman said "the days of a traditional management have gone".
They said decision-making would be devolved and there would be closer working between officers and councillors.
Ms Simons, chief executive since 2005, resisted pressure to resign following the conviction of a paedophile ring in Oxfordshire, in 2013.