Mum defies Kidlington grave decoration deadline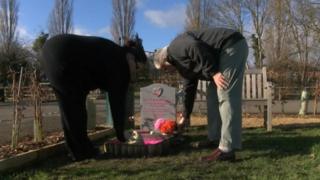 A grieving mother has ignored a council deadline to remove decorations from her baby daughter's grave.
Jade Beadle was sent a letter telling her to remove colourful gravel and items from baby Tanya's grave, at Kidlington cemetery, by Saturday night.
Ms Beadle said: "I haven't removed anything. I have been down there a couple of times and it is all still there."
Kidlington Parish Council said it was deciding what action to take.
Ms Beadle said: "I haven't heard anything from them. I was hoping the council might want to come to some sort of compromise.
"They said that if I don't take the stuff away they will remove it."
An online petition calling for parents to be allowed to decorate graves has attracted more than 5,500 signatures.
Kidlington Parish Council said its rules stated no items, such as pot plants, toys, statues or solar lights, were permitted on graves.
The council said the ornaments also made maintenance difficult.
Council chairman, David Betts, said on Friday: "We have to have a consistent approach.
"Different people have different tastes about what they want to see on their grave. It's not pleasing to everybody."