Oxfordshire transport plan consultation opens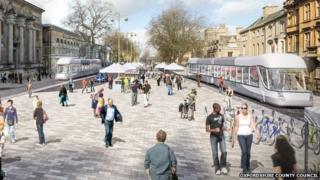 Proposals for the future of transport in Oxfordshire have gone out to public consultation.
The Oxfordshire County Council Connecting Oxfordshire plans cover all areas of transport - road, rail, bus, cycle and foot.
They have been designed to cope with a growth in population expected by 2031 when up to 100,000 new homes and 85,000 new jobs are expected to be created.
Ideas include city centre trams, a new railway station and larger buses.
Cycle super-routes could be introduced across the city along with a new A40-A44 link road as well as improvements to Junction 9 of the M40.
People can have their say on the ideas before the plans are presented in their final format to cabinet later this year.
The consultation is open until Thursday 2 April. Feedback can be completed by going to the council's website.
Oxford City Council, Oxfordshire County Council and Network Rail are working together to develop the project in conjunction with Department for Transport and First Great Western.