A34 Milton Interchange works: Concerns over delays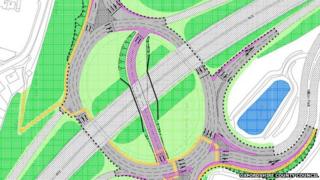 Speed restrictions during major roadworks on the A34 in Oxfordshire have sparked concerns over delays.
The Milton Interchange roundabout is to have a carriageway built through its centre over the next year. A tunnel will take traffic from Didcot onto the northbound A34.
The £11m so-called "hamburger" roundabout aims to ease congestion.
Construction has been restricted to evenings, but will be carried out 24 hours a day from 16 February.
Southbound traffic will be restricted from 70 to 30 mph, with one lane diverted onto the roundabout. A 40 mph speed limit will operate on the northbound carriageway.
'Snarled up'
Taxi driver Colin Dobson regularly uses the route to take passengers from Abingdon to Didcot.
"In the past, when one lane has been closed on that roundabout, traffic has been brought almost to gridlock which has led to 40-minute delays," he said.
He said such delays could cost him up to £50 in lost fares which he described as "unacceptable".
Caroline Sinclair, from Thatcham, Berkshire, uses the A34 to commute to work in Headington.
She said she feared nearby villages would "get snarled up" as a result of motorists using alternative routes.
She is also concerned the works would lead to similar delays she faced during upgrade works at Oxford's Kennington roundabout last year.
"My 45 minute commute was taking me about two hours which was very stressful," she said.
Oxfordshire County Council said it could not comment until after a meeting with "key stakeholders" on Tuesday.
However, it has written to businesses on nearby Milton Park warning them of the new restrictions.