Oxford's Frideswide Square roadworks 'disruption'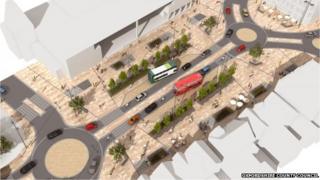 Motorists, residents and businesses have been warned to expect disruption in Oxford city centre as roadworks get under way outside the railway station.
Upgrade works at Frideswide Square will begin overnight on Monday, and are expected to end in December.
The work includes "significantly" reducing the amount of road space to create an "enhanced public space", the county council said.
It added there would be access to vehicles during the works.
However, the authority said there would "undoubtedly be disruption" and has warned people to consider alternative transport, including the park and ride scheme.
The train station will be unaffected.