Flood-hit Normandy Crescent to get new water pipe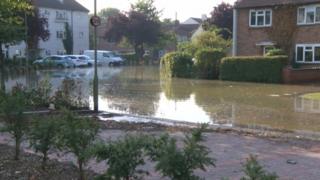 A water pipe that has burst twice, flooding homes in Oxford, is to be replaced.
Thames Water has said it will replace 2km (1.2 miles) of water pipe running through Normandy Crescent, Cowley.
Out of 23 properties affected, 13 families are still in temporary accommodation following flooding caused when the pipe burst on 23 September.
The firm said £6m would be spent replacing the pipe, which was installed in 1957.
Rob Keen of Thames Water said: "What happened in Normandy Crescent was horrendous, and I personally apologise.
"Having considered all the options, I'm confident that replacing the pipe and installing monitoring kit is the most effective way of reducing the risk of anything like this ever happening again."
The pipe burst for the first time in 2007, flooding the crescent.