BT says Banbury phone box library can stay 'if adopted'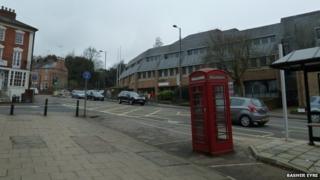 A phone box library which has been threatened with closure can stay open, if someone takes responsibility for it and the phone is removed, BT has said.
About 40 books are available to borrow from the working red phone box on South Bar, Banbury, Oxfordshire.
But BT put up a note in the booth saying the books and shelving have to be removed, as they could be dangerous.
Banbury Town Council says it will be happy to look after the upkeep but wants BT to keep the payphone in place.
Councillor Kieron Mallon said: "We will adopt the phone box itself and will pay to put in bespoke shelving.
"But as far as we are concerned the phone box must remain a fully functioning unit."
Mr Mallon said the booth was well used, with about 1,100 calls made last year.
Graham Taylor, spokesman for BT, said the company needed to talk to the town council about the future of the phone box.
"We can leave an electricity supply in the phone box so that it can have lights," he said.
"Unfortunately we can't allow dual use of the phone boxes but... there are phone boxes nearby, 350 yards away."
The book exchange is believed to have been installed last summer.
The note added to the phone box said BT understood the "good intentions" behind the library project, but asked for the books, shelving and signs to "be removed as soon as possible".
A local company has offered to install bespoke replacement shelving in the phone box free of charge.