Oxford Grenoble Road Bowlplex in 'no travellers' row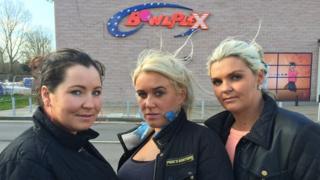 A bowling alley has apologised after a security guard refused entry to a group of women, claiming the place had a "no traveller" policy.
The six women, from the Redbridge Hollow travellers site, had turned up for a birthday party at Bowlplex in Oxford when they were asked to leave.
They said they felt "humiliated" and covertly filmed the guard's comments.
In a statement Bowlplex said they did not have such a policy and that they had launched a full investigation.
'Victimised'
The group were at the facility on Grenoble Road on Friday when seven others arrived to join them. All 13 were asked to leave.
Natasha Joyce said: "I felt humiliated, I felt upset, I felt like we were victimised.
"I wanted the ground to open up and swallow me - getting escorted out of the Bowlplex in front of hundreds of people."
In a statement, Bowlplex said: "The security staff at the Oxford bowl identified some individuals that were connected to a previous incident on the premises, and to ensure the safety of other customers they were asked to leave.
"Bowlplex would like to apologise unreservedly to anyone that has been caused offence by these comments and re-iterate that no such policy exists."
Martin Howe, a solicitor who represents travellers, said the incident was "offensive" and "against any basis for a civilised society".