Oxford Castle Mill student flats: Roof removal plans rejected for second time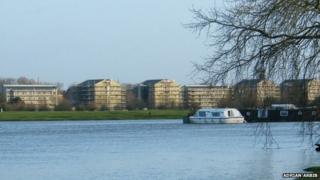 Plans to demolish the top floor of a block of controversial student flats in Oxford have been rejected by senior academics for a second time.
A postal vote of the university's 4,500 "congregation" was called after the motion was rejected last month.
Campaigners want the Castle Mill student accommodation at Port Meadow lowered because the flats "vandalise the views" of Oxford's spires.
The five-storey buildings house more than 300 postgraduate students.
The £21.5m development was granted planning permission in 2011 by Oxford City Council.
Following an independent report into the impact of the building, three options for rectifying the effect on the view were suggested.
These included changing the cladding and colour and planting trees, lowering the roofs and removing the top floor.
The cost of taking off the top floor of the Castle Mill flats has been estimated at £30m.
The university said it wanted to look at options "to help the buildings blend in more when viewed from Port Meadow, not by destroying badly needed student homes at vast financial and social cost to the university and the city."
The flats have been widely criticised by campaigners as "a grotesque mistake".
The meadow is a Scheduled Monument and a Site of Special Scientific Interest.
The University Council will now meet with the city council to discuss the options.
The university is bound by any decision made by the congregation, which acts as the university's parliament.