Oxford sex abuse: Ethnicity of perpetrators 'needs addressing'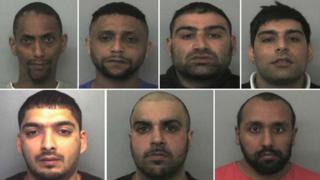 Difficult questions over the ethnicity of perpetrators of child sex abuse in Oxford need addressing, a charity says.
The Lucy Faithfull Foundation spoke out after a serious case review called for research into why many perpetrators in these kinds of cases are of "Pakistani and/or Muslim heritage".
The review found errors in the handling of reports of abuse by the authorities.
Imam Monowar Hussain said it was "horrible and horrific" that Islam had been associated with the abuse.
Donald Findlater, director of the Lucy Faithfull Foundation, said: "There are tremendous sensitivities here but denial isn't going to get us anywhere and it is a priority that we stare this issue in the face, of ethnicity, partly because it helps us to begin a better engagement with the relative communities where these exploiters come from and where tomorrow's exploiters may come from."
'Pin the blame'
Mr Hussain, of the Oxford Foundation, said the Islamic faith condemned child exploitation as much as any other.
He said: "The ordinary, average, young Muslim person living in this country just feels pretty exhausted with this stuff being associated with their culture and religion."
Penny Faust, chairman of the Oxford Council of Faiths, said: "We have to be very careful not to try and pin the blame on any one group of any particular kind of behaviour, because it happens in all communities at all levels of society."
The serious case review was launched after a gang of seven men was jailed in 2013 for abusing six girls in Oxford over an eight-year period.
Two of the men were of east African origin and five of Pakistani origin.